There's a new twist in the race for the mirrorball on Dancing With the Stars. E! News has confirmed Lindsay Arnold injured her knee during rehearsal on Sunday, Nov. 12.
"I was practicing the pro number and I literally just stepped up onto a stair and it felt like my whole leg gave out and stopped working," Lindsay said in a video on People.
Arnold is competing with Hamilton star Jordan Fisher and the two are now in the semifinals. They received two perfect scores during the Monday, Nov. 6 show.
"We're both insanely grateful and excited to keep the momentum going and build off of tonight, which has been an amazing night, one I will never forget," Jordan told E! News after their big night.
"Do what we've been doing. Every single week it's kind of like, we feel the pressure…This guy is incredible and every week people expect more and more and more and it's always scary and there's always the pressure to get better and better," Lindsay told us about topping their double perfect scores. "By trusting each other and going for the crazy things that happen in my head…that's how we're able to succeed. It's just going for it and stepping outside of the box."
Now all that may be in jeopardy, depending on her injury. Fellow Dancing With the Stars pros have been standing in for Lindsay in rehearsals. Jordan and Lindsay also received a perfect score for their Halloween dance and during Disney night, making them one of the top couples to beat in the competition.
Injuries are common during Dancing With the Stars. Earlier this season Drew Scott suffered a hamstring injury and Lindsey Stirling injured her ribs. Both went on to dance. Find out who else has struggled during the competition below.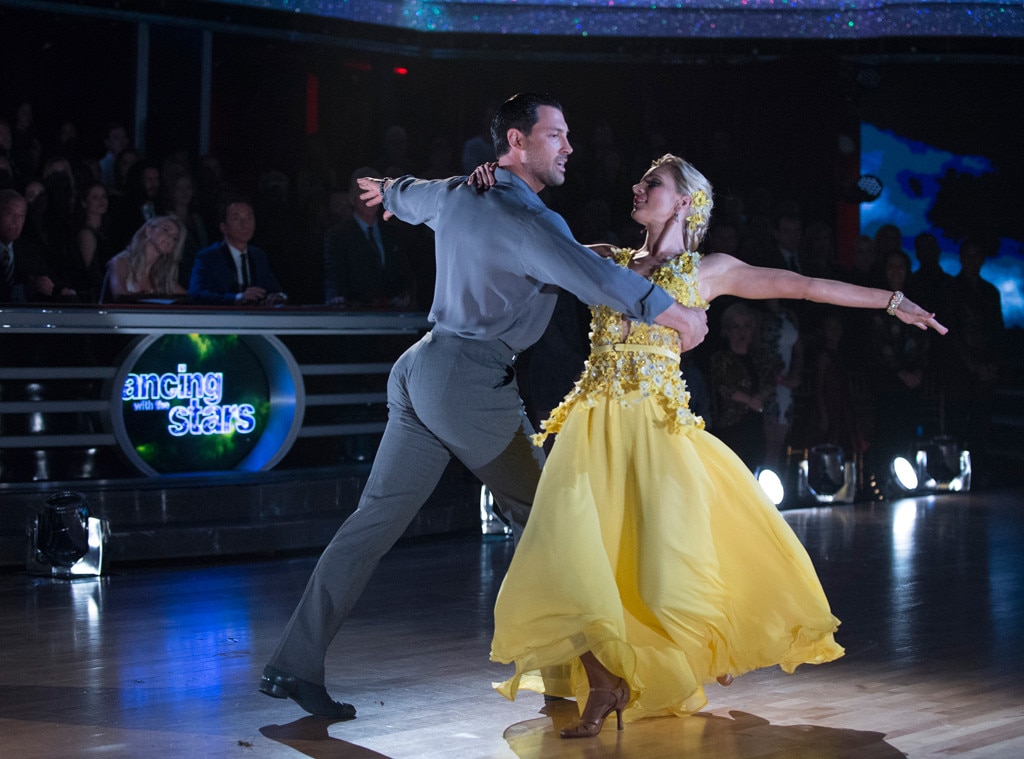 ABC
Maksim Chmerkovskiy

The pro was sidelined during the second week of DWTS season 24 after suffering a calf injury. His partner, Heather Morris, ended up having to dance with a replacement.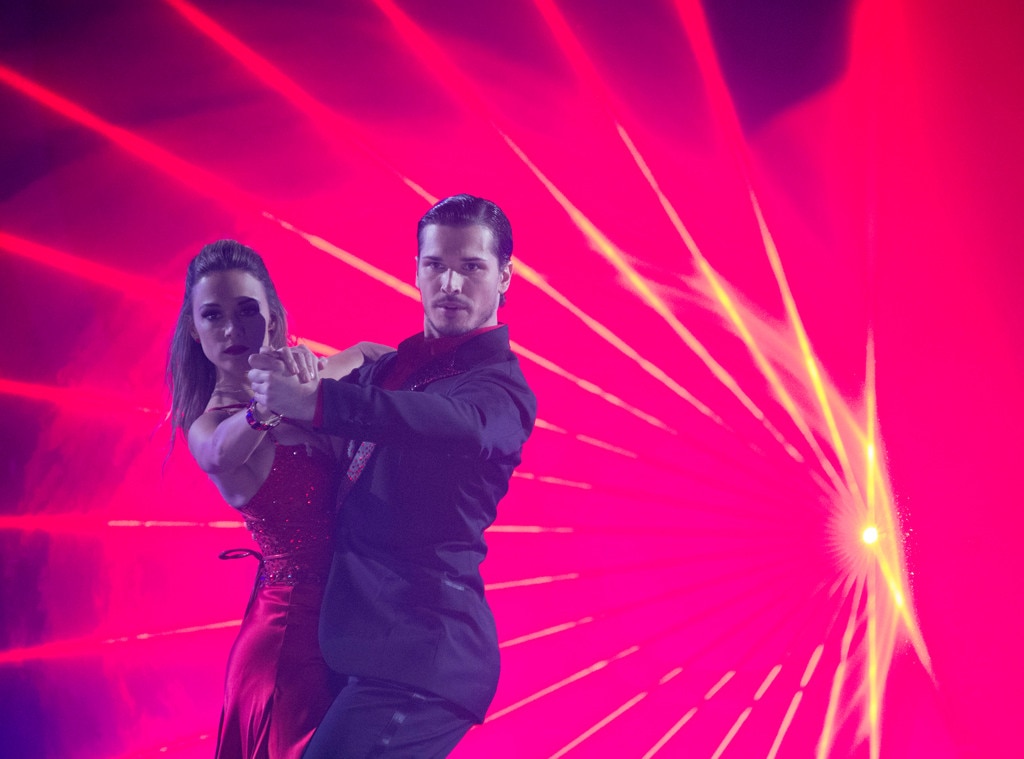 ABC
Jana Kramer and Gleb Savchenko

Both dancers suffered injuries during season 23. The actress pulled a muscle in her rib cage before the show's opening night, and the pro was sidelined a month later after suffering a knee injury.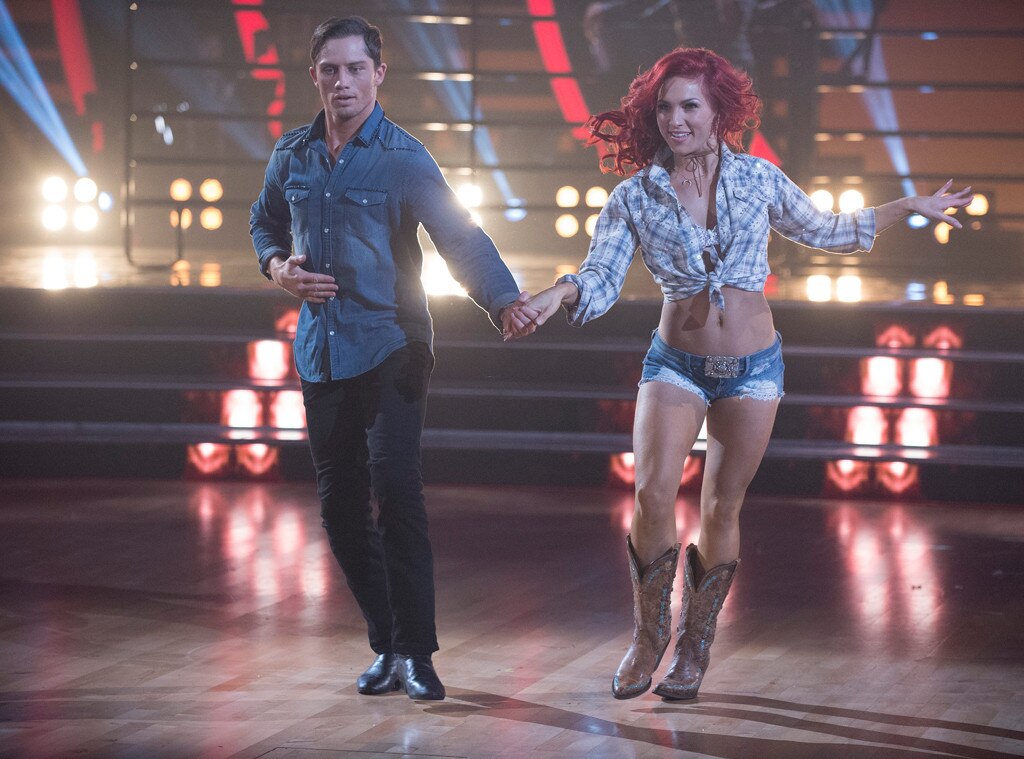 ABC
Sharna Burgess

During season 23,  James Hinchcliffe's partner injured her knee during dress rehearsal. Jenna Johnson, who was originally partnered with Disney star Jake T. Austin for the season was eliminated first and was able to fill in for her.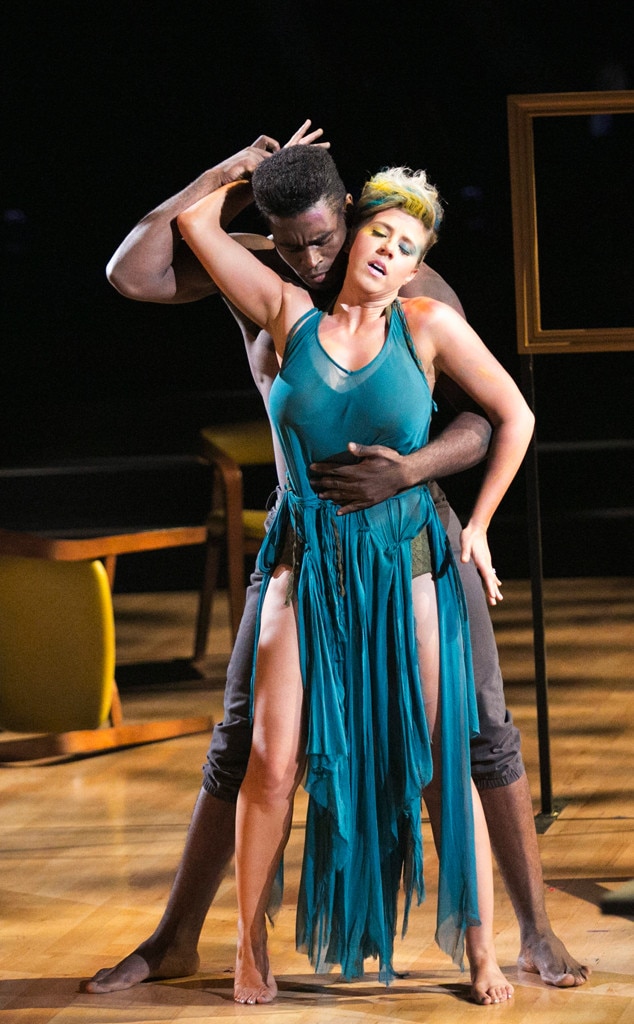 ABC
Jodie Sweetin

The Fuller House star was taken to a hospital after injuring her ankle during season 22 rehearsals with pro partner Keo Motsepe.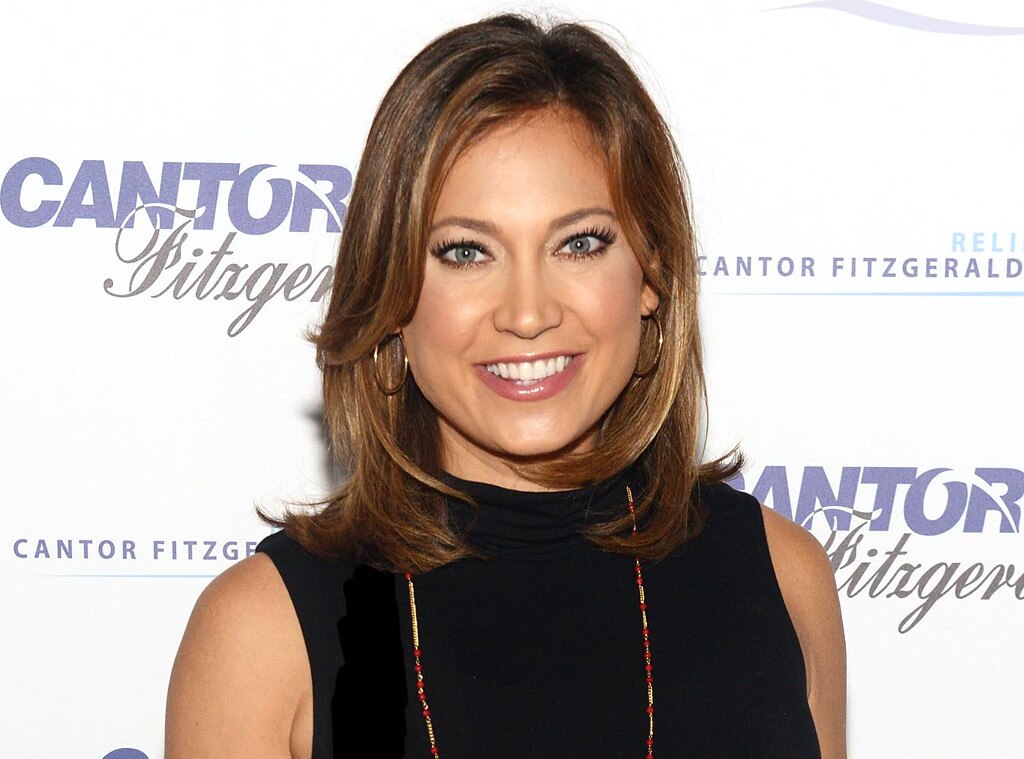 Noam Galai/Getty Images for Cantor Fitzgerald
Ginger Zee

The Today host suffered a pelvis injury right before the season finale of DWTS season 22 last year, but she was still able to perform partner Val Chmerkovskiy.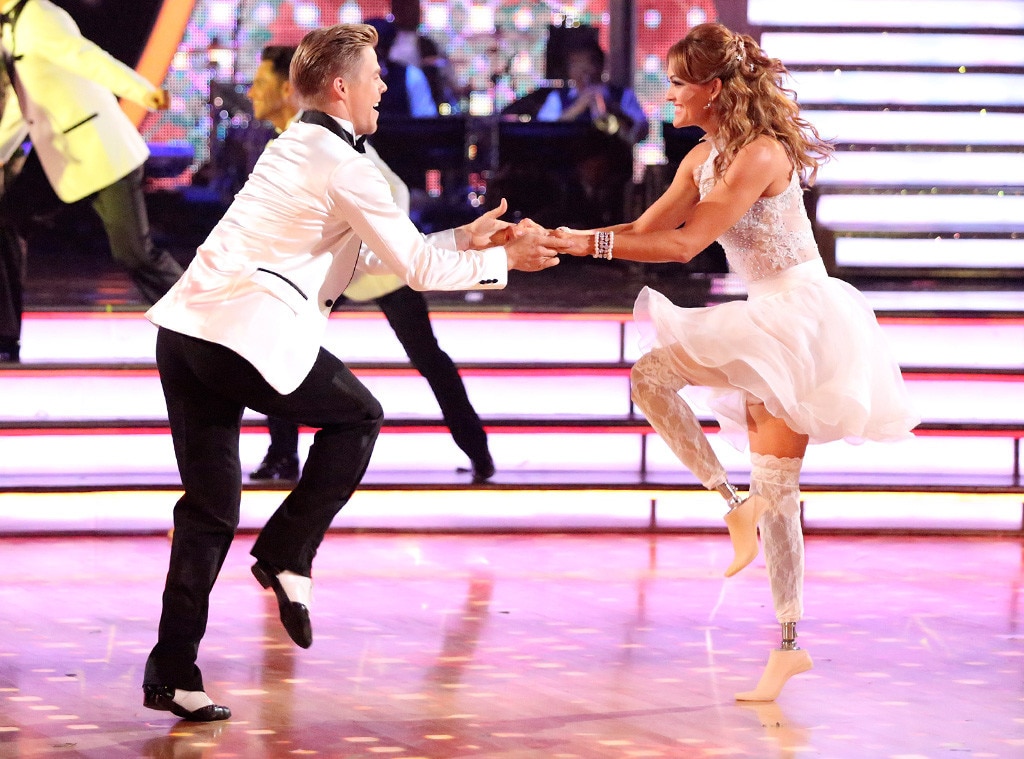 ABC/Adam Taylor
Amy Purdy

The Season 18 contestant was rushed to the hospital during a live show when she injured her shoulder during her rumba with partner Derek Hough. The snowboarder later updated her fans on Twitter, writing, "So, Looks like I have a rib out of place and my muscles are in spasm…I am being very proactive in healing up so I can continue this journey."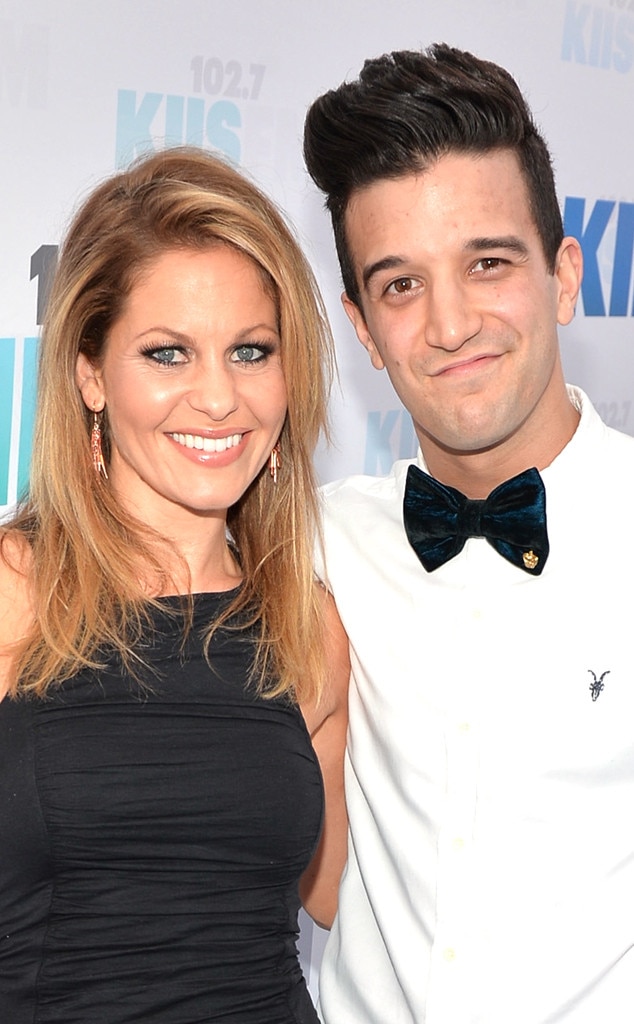 Alberto E. Rodriguez/Getty Images
Mark Ballas

The pro injured his shoulder while partnered with Candace Cameron-Bure, right before the season 18 finale.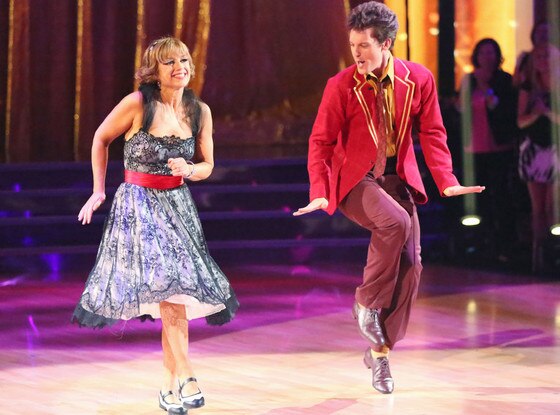 ABC/Adam Taylor
Dorothy Hamill

The figure skater was forced to leave during week two of season 16 due to a spine injury.  "I have an injury that could be irreparable, and nerve damage, and it would be completely unfair for me to stay in this and have any of these people go home," Dorothy said at the time. 
ABC/Adam Taylor
Derek Hough

Though he and partner Amber Riley eventually went on to win Season 17, the pro was  forced to sit out one week after injuring his back. Fellow pro Mark Ballas stepped in to dance with the Glee star. Then, during season 20, Hough broke a toe and sprained his ankle while rehearsing for DWTS with partner Nastia Liukin.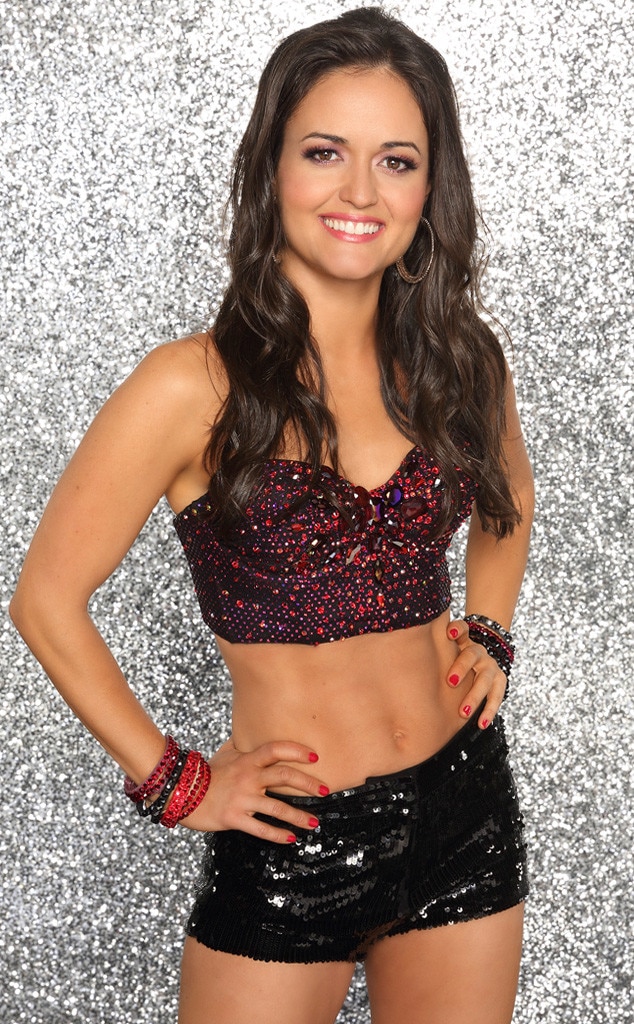 ABC
Danica McKellar

The Wonder Years star broke a rib during a rehearsal session with Val Chmerkovskiy, posting on Twitter, "So…I broke a rib in yesterday's #DWTS rehearsal. Trying my best to pull thru and could use your prayers!! #wanttokeepdancing." McKellar was able to perform despite her injury, later telling us, "It's sore, but as long as nobody bumps into it, I'm OK! I just had to keep going. The show must go on!"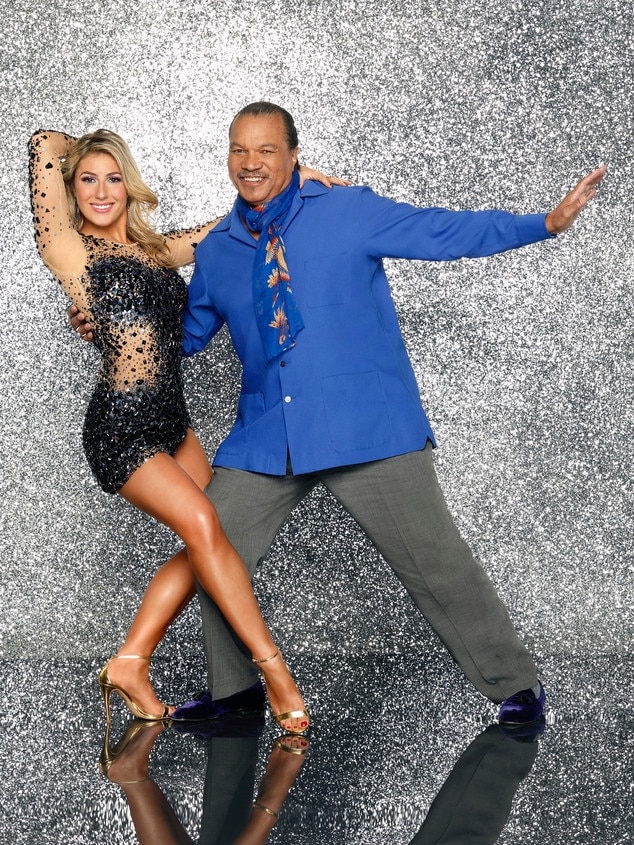 ABC/Craig Sjodin
Billy Dee Williams

The Star Wars legend was forced to quit the competition due to chronic back pain in Season 18's third week of competition.
"It's chronic, it's arthritic. I made a tough choice, but it was a choice I think I needed to make.," Williams told us of his decision to leave the show.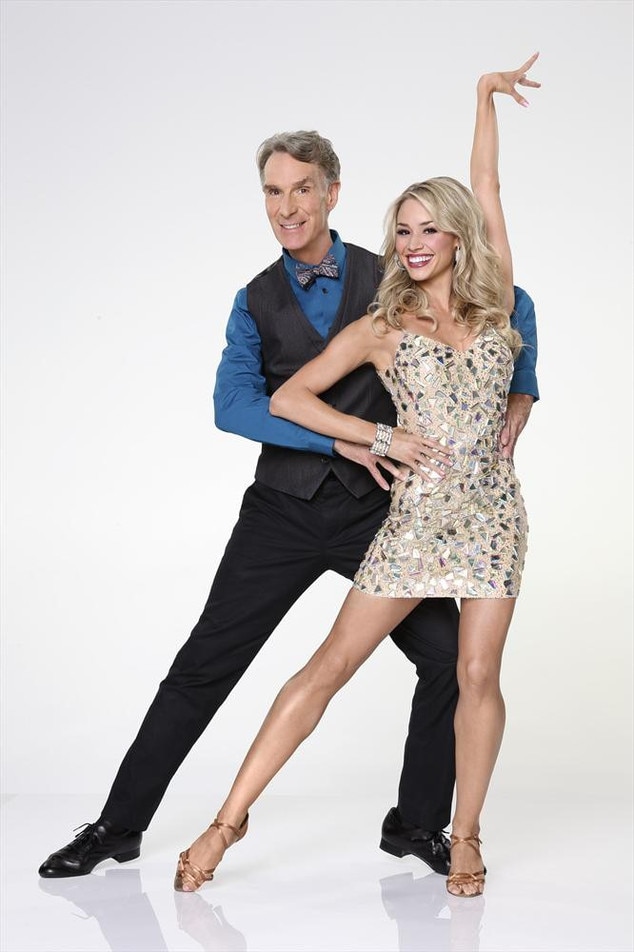 ABC/Craig Sjodin
Bill Nye

The beloved Science Guy was seriously injured during a performance on the ABC reality hit's 17th season, one which almost required surgery on his knee.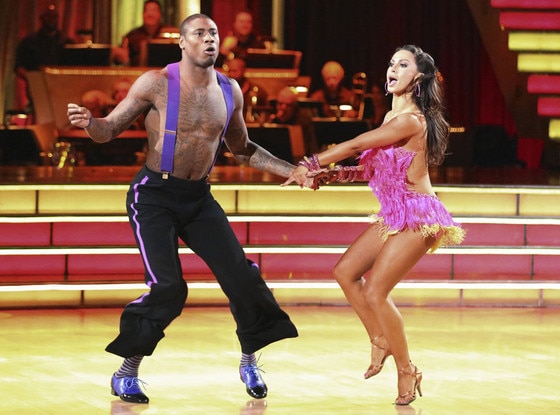 ABC
Karina Smirnoff

The pro hoofer injured her nack and jaw after falling during a rehearsal with partner Jacoby Jones.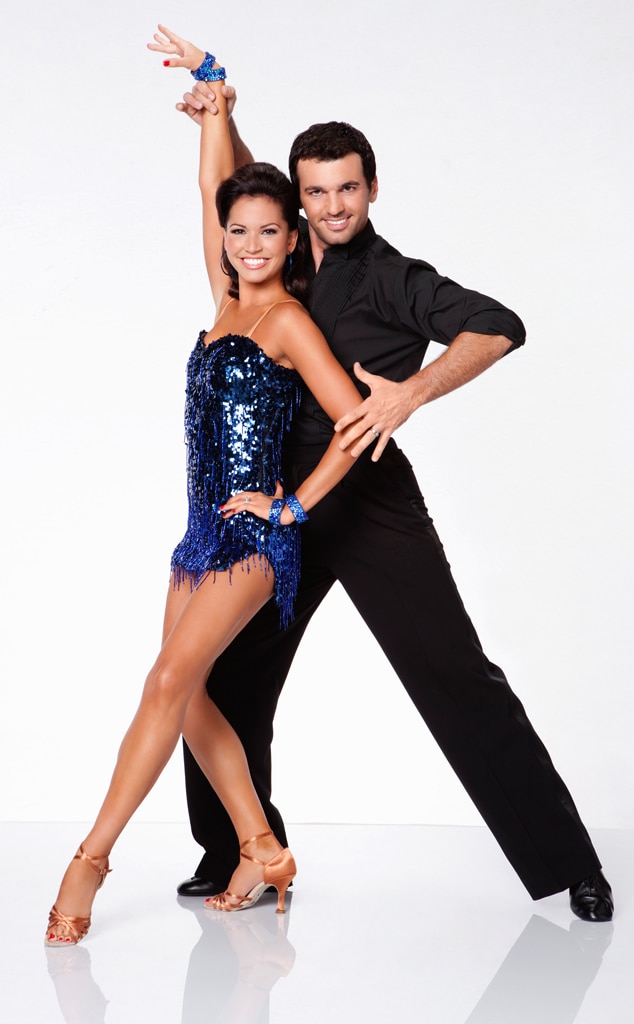 Craig Sjodin/ABC
Melissa Rycroft

The Bachelor star suffered an on set injury during camera blocking rehearsal for the tango and was immediately taken to the hospital and was diagnosed with a disc herniation at the C4-C5 level of her cervical spine.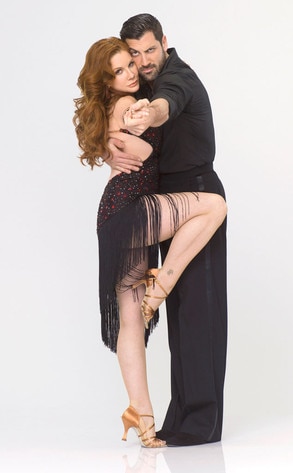 ABC/BOB D'AMICO
Melissa Gilbert

The former Little House on the Prairie star hit her head on the ground during a paso doble and went to the hospital, but is doing just fine. "I'm alright. Mild concussion and whiplash," she tweeted.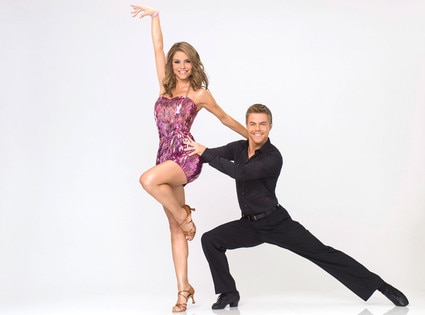 ABC/BOB D'AMICO
Maria Menounos

Derek Hough's partner in crime this season, who claims to have a "high tolerance to pain," has kept pushing on despite two broken ribs and a stress fracture in her foot.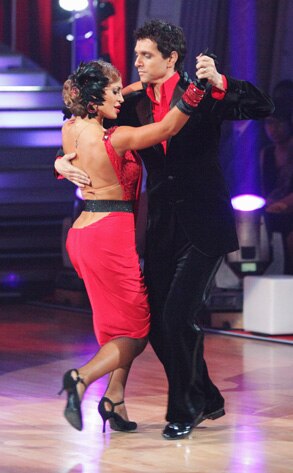 Adam Taylor/ABC
Ralph Macchio

During season 13, Macchio was the first to admit that he was injured; he was unable to practice for a week due to a ruptured cyst on the back of his knee.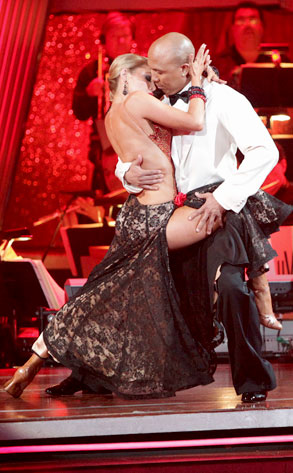 Kym Johnson

Last season, the DWTS veteran took a tumble during rehearsals and was rushed to the hospital, where she was treated for a neck injury. It wasn't long before Johnson was back—neck brace and all.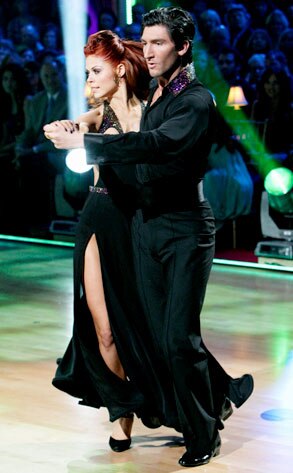 ABC/ADAM LARKEY
Evan Lysacek

This Olympian broke two toes doing the jive in 2010 and soon after suffered a mild concussion while training, but it didn't stop him from dancing—as well as skating nightly in his concurrent Stars on Ice tour.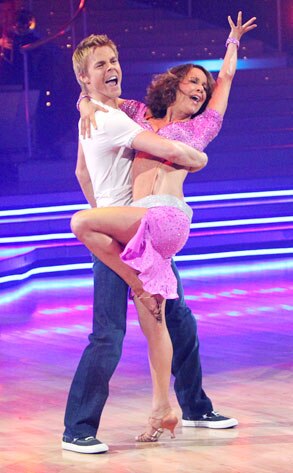 ABC/ADAM LARKEY
Jennifer Grey

The Dirty Dancing star ruptured a disc in her lower back the night before the season 12 finale but nevertheless came out a winner, later undergoing surgery to remove the fragment.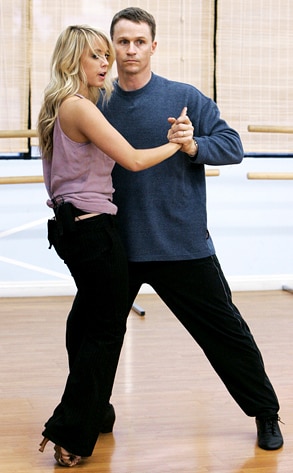 ABC/ADAM LARKEY
Ty Murray

The country hunk fell to the Dancing gods, but not in the way you'd think: Jewel's hubbie got a big shiner when he was knocked in this face with partner Chelsie Hightower's microphone pack.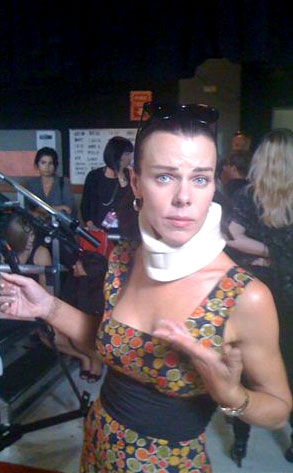 twitter.com/debimazar
Debi Mazar

The Entourage actress went to the hospital after making her debut in season 11 and was diagnosed with a "torn muscle in neck to chest," per her Twitter, for which she wore a neck brace.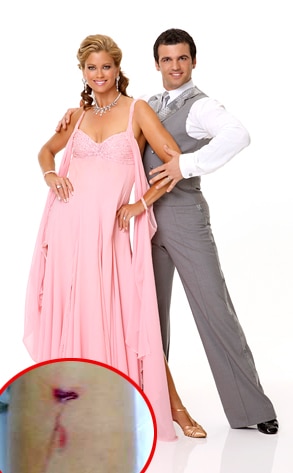 ABC
Kathy Ireland

Before the season 11 premiere, Ireland took a quick dancing break to surf with her son; while in the ocean she bashed the board against the side of her leg, splitting it open, and had to get stitches.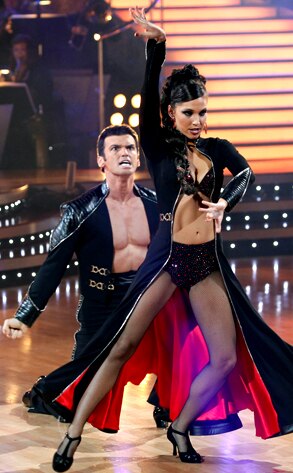 ABC/Kelsey McNeal
Melissa Rycroft

The Bachelor babe went to the hospital in 2009 after being bothered all week by what turned out to be a hairline rib fracture.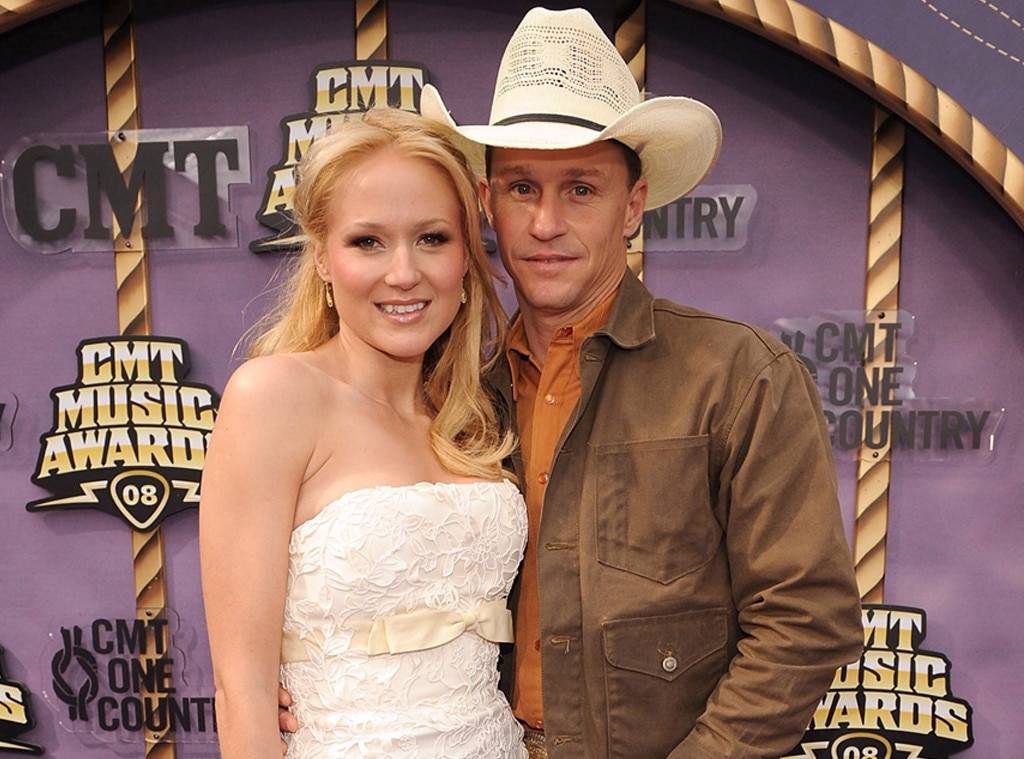 Rick Diamond/WireImage
Jewel

The singer was supposed to compete alongside her husband Ty Murray, but she fractured both her tibias and was replaced by Holly Madison during season 8.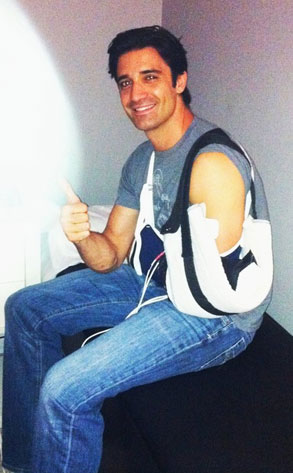 Twitter
Gilles Marini

The very sexy French actor suffered not one but two injuries while Dancing With the Stars: He was sidelined by a groin inflammation during rehearsals before the season premiere and eventually underwent surgery to treat a separated shoulder.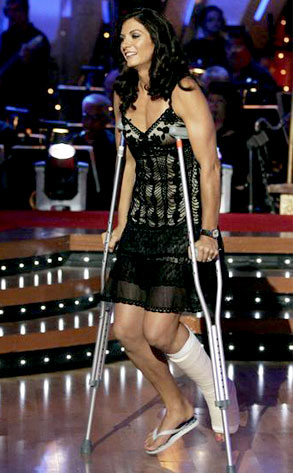 ABC
Misty May-Treanor

In 2008, the Olympic beach volleyball champ went under the knife for repair of the Achilles tendon she tore while rehearsing the jive on the show.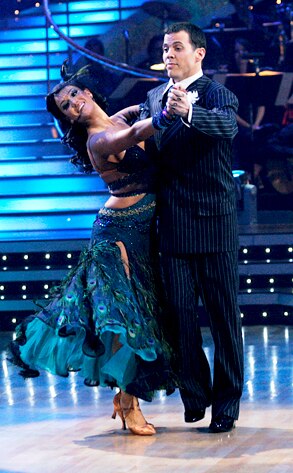 ABC/KELSEY MCNEAL
Steve-O

The resident stuntman and Jackass star had to rest after being injured flipping onto his back and landing on his mic pack during his salsa routine rehearsal.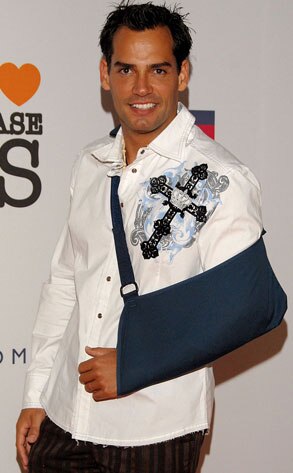 Mark Sullivan/WireImage.com
Cristián de la Fuente

The Chilean actor detached one of his tendons from its bone during his samba performance but waited until he was booted off the show to have it repaired through surgery.
NEXT GALLERY: Hollywood's Favorite Hookers!
Dancing With the Stars airs Mondays, 8 p.m. on ABC.
Don't miss E! News every weekday at 7 and 11 p.m.