If you ever wanted to see John Cena make out with himself dressed as his mother and father, well, you're in luck. It's time to meet the Cenas?
Cena and his "family" have come together for a new 2018 Kids' Choice Awards commercials that will give you flashbacks to The Nutty Professor's family, the Klumps. In the promo above, Cena announces to his family, including his grandma, a baby and Cena's head on a dog that pees slime, that he is returning to host the Kids' Choice Awards for the second year in a row.
And Papa Cena asks the hard-hitting question: Is Dwayne Johnson going to be there?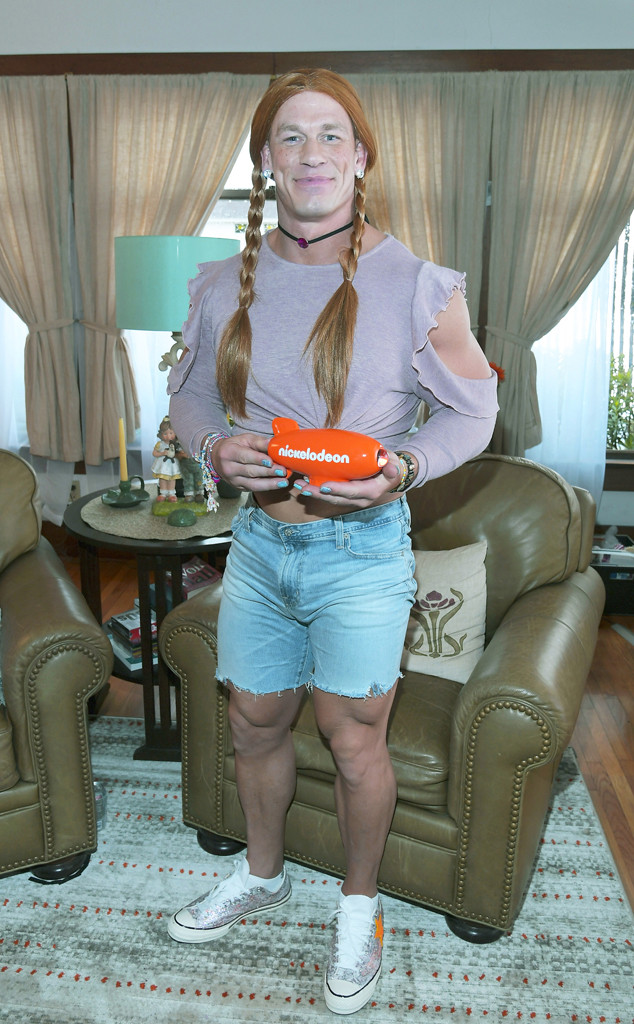 Nickelodeon
"Well, he hasn't returned my calls. Or texts. DMs, or Insta—maybe he's phone's broken, but there's going to be so many stars there," Cena tells his family. Jace Norman of Henry Danger will be there, to the delight of Joan Cena.
The Cena family is truly a sight to behold.
"It's an awesome show!" Cena told E! News about the upcoming awards show. "It is like the thrill of being in a WWE show, which is the thing I enjoy the absolute most, and Kids' Choice Awards is that thrill and that experience. Nickelodeon's production value is amazing. Every show is just outstanding and what they do for the kids in the audience and the kids at home is spectacular. The show is for the kids and so designed for the audience absolutely and it's so fun. You get to be a big kid."
Catch the 2018 Kids' Choice Awards live from The Forum in California on March 24 at 8 p.m. on Nickelodeon. And be on the lookout for Cena's Keep It Spotless, a new Nickelodeon game show, and for Cena to voice a new villain on Rise of the Teenage Mutant Ninja Turtles.
How does he find the time to do it all? "This is going to sound super cliché, but I just take things one day at a time," Cena told E! News. "Absolutely one day at a time and that's how you sleep and find time for all this work and I guess the second thing is something you hear from a lot of folks that grind it out is, this recurring message of love what you do. There isn't a single thing that I'm doing and am involved in that I don't truly enjoy."