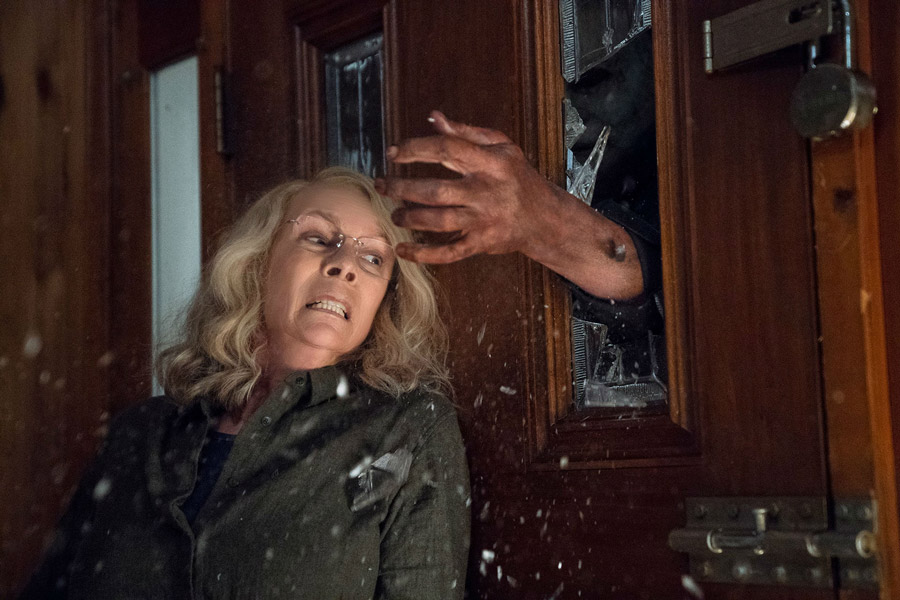 Update: The first trailer for Halloween has arrived and it's every bit as terrifying as we hoped it would be. Jamie Lee Curtis returns as Laurie Strode in a thriller that takes place after the events in John Carpenter's 1978 classic.

Watch the trailer and then catch up with everything we know about the film in our previously-published posts below, starting with the initial reaction to the footage at CinemaCon in Las Vegas back in April 2018.

(Previously published article below.)

CinemaCon attendees got a first look at the new Halloween this week. Producer Jason Blum and star Jamie Lee Curtis were on hand to provide information about the movie, which is a direct sequel to the 1978 original and set exactly 40 years later.

"This movie is hella scary," Curtis told the crowd after apologizing for the previous installment she appeared in, "and you guys please tweet that I said hella." She also claimed, "Halloween is gonna scare the living sh*t out of all of you."

Universal, the movie's distributor, also shared a trailer at CinemaCon, and it's apparently indeed hella scary. Here are some of the reactions to the footage:

"The first Halloween trailer just scared the sh*t out of me. Jamie Lee Curtis is a legend and we are not worthy." – Avery Thompson, Hollywood Life

"So, the Halloween trailer. Pretty sure I just shit myself." – Lauren Cox, Hollywood Life

"I cannot even begin to describe how fucking awesome the HALLOWEEN trailer is. You guys are gonna lose your minds. It looks *terrifying*." – Scott Wampler, Birth.Movies.Death

"They're not messing around with this one. It's great to see the mask back in action… Also Laurie is never once shown as scared in the footage we saw. She's a woman on a mission, just as much a hunter as Michael. Love that take." – Eric Vespe, The Know

"Even the trailer was scary. The take on the story looks self-aware and smart. Really cool visuals and Jamie Lee Curtis looks badass. Oh man, I can't wait." – Germain Lussier, io9

"Sickest part…is when Myers enters a bathroom with one woman in a stall. He slowly reaches his hand over the stall and drops a whole bunch of bloody teeth on the floor. Then kicks his way in. NUTS!" – Erik Davis, Fandango

A number of things have been confirmed by the first footage and presentation, including the retconning change that Curtis' character, Laurie Strode, and masked killer Michael Myers are not brother and sister.

For more, watch the trailer when it becomes available and check out our breakdown of what we know so far below. 

So it's true this movie ignores the rest of the series? 

It ignores all other Halloween movies except the first one. Only the events of the first movie are canon now. 

What is the story?

The movie is set four decades after Michael Myers was recommitted after being shot by Detective Loomis. In the decades since, Laurie has had a daughter and a granddaughter, and she's been preparing for the day Myers would return for her (think Sarah Connor in Terminator 2: Judgment Day). Of course, that day comes on the 40th annniversary, with Myers escaping from the hospital and terrorizing Haddonfield once again.

Who all is back from the original?

In addition to Jamie Lee Curtis reprising her role as Laurie, Nick Castle is back behind the William Shatner mask as Michael Myers (sharing with stuntperson James Jude Courtney). Additionally, original writer/director/composer John Carpenter is involved but mostly as a consultant, and also he's doing the score again. 

Who else is in the movie?

Judy Greer (Jurassic World) plays Laurie's daughter, Karen, while Andi Matichak (Orange Is the New Black) is the teenage granddaughter, Allyson. Also on board are Virginia Gardner (Marvel's Runaways), who plays Allyson's friend, and Will Patton.

If Carpenter isn't directing, who is?

David Gordon Green, best known for Pineapple Express and last year's drama Stronger, is at the helm.

Did he also write the script?

Yes, along with Jeff Fradley and actor/writer Danny McBride (who is surprisingly not also part of the cast).

When does it come out?

Halloween will hit theaters on October 19, just in time for the titular holiday.