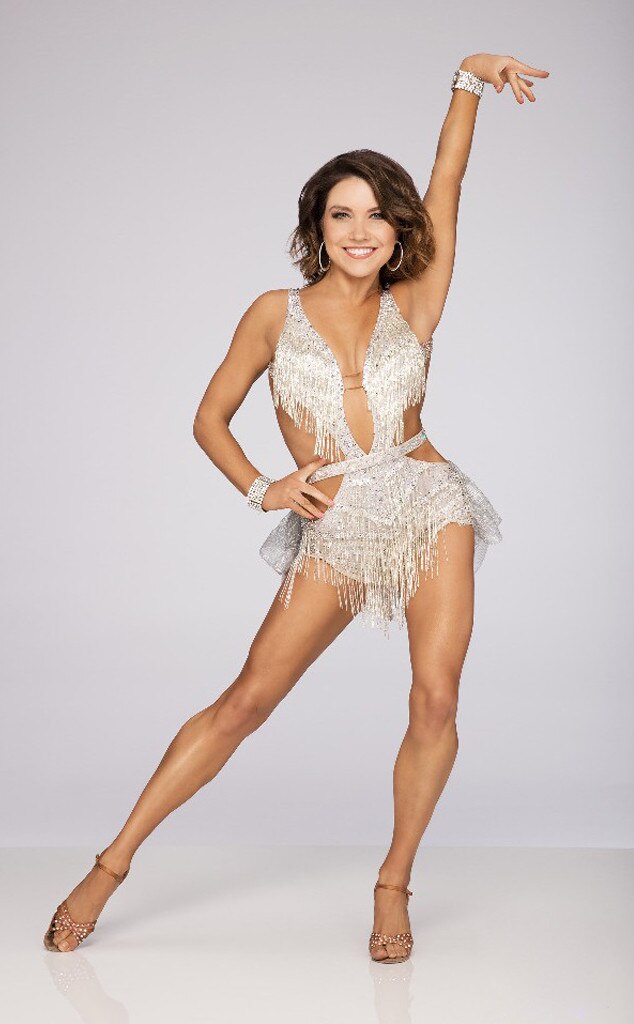 ABC
Dancing With the Stars professional dancer Jenna Johnson, now part of the dance troupe on the ABC series, is taking you behind the scenes of season 25.
Hello E! News readers! I am so excited to be back on the Dancing With the Stars stage this week and I'm even more excited to blog this season for E! News. I always say that there should be a reality show of what goes on behind the scenes at Dancing With the Stars because there are so many fun and exciting things that people just don't get to see! I hope I can give some insight into that and keep you all in the know of what goes on behind the scenes this season. I wanted to start my first blog this week by sharing my Top 5 things to look out for during season 25.

1. Watch out for these frontrunners
I think that this is one of the BEST cast seasons we have had in a while. I feel like every single celebrity has something to offer, whether that be insane talent, an adorable personality or a breathtaking story. It's funny because after watching the first episode, I didn't want to see anyone go home! But if I had to narrow it down based off of the premiere, my early frontrunner predictions would be: Lindsay Arnold and Jordan Fisher, Mark Ballas and Lindsey Stirling, Artem Chigvintsev and Nikki Bella, and Val Chmerkovskiy and Victoria Arlen.
2. Who will be the most improved
Vanessa Lachey is a powerhouse for me! I was shocked when I saw her perform for the first time!! She looked so natural dancing and picked up on some great leg action in her Cha-Cha. I think she has the drive to want to learn everything and anything. I can't wait to see her try new styles and to see how she improves throughout the season.
3. Why I came back to DWTS this season and where I've been
In all honestly, I missed performing on the show with all my heart. I'm really glad I took a season off for personal reasons and to step my foot into the acting world, but there is no comparison to when we go live on Monday nights at DWTS. That feeling of pure excitement and adrenaline is irreplaceable. I've been lucky enough to compete as an all star on So You Think You Can Dance this summer and have made it to the finals with my partner, which is why I've had to miss out on a few DWTS shows, but come Tuesday, I'm back at the Dancing stage!!!! I'm SO happy to be back with my DWTS family.
4. Why this week is two times as intense
This week is kind of crazy because everyone has two dances!! Usually you don't have to prepare for two dances until later in the season when the celebrities have finally started to get a hang of the intensity of the show. One dance is already stressful enough when you are a beginner and have never had to memorize dance steps before, but TWO dances back to back nights is going to be pretty crazy for some of the couples. Tonight is Latin night though, which is always my favorite theme of the season, and I've already seen some pretty spicy routines!
5. Get excited about Frankie Muniz this season
When I found out that Frankie Muniz was going to be on the show my childhood heart exploded. Agent Cody Banks was a big part of 12-year-old Jenna's life. I was initially a little skeptical about how his dancing would be, but after watching him on Monday I was pleasantly surprised. I was definitely not expecting him to be that amazing! I think people underestimated him coming into the competition, but if he continues at the pace he's going, I think he can be a real contender this season!
I can't wait to share this season with all of you!! That's it for now, until next week…
Dancing With the Stars airs Mondays, 8 p.m. on ABC.